5 safety issues for COVID and job interviews
3/3/2021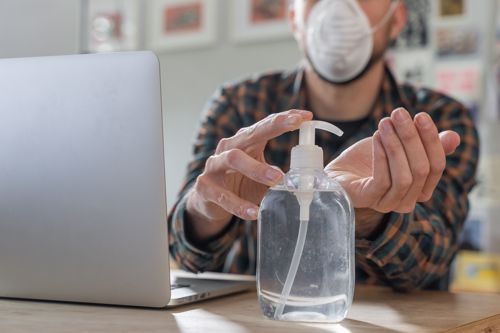 These days, more offices are opening up once again as the threat surrounding the novel coronavirus continues to diminish, and that means the return of in-person interviews is imminent. However, when it comes to the pandemic, we're certainly not out of the woods yet and you have to be cognizant of the safety issues that still exist, even if you personally feel more comfortable about conducting business as usual in person.
With that in mind, the following safety and sanitation tips for in-person interviews in the near future will help serve you and your interviewees well going forward:
1) Wear your mask — and be mindful of what it means
First and foremost, you should wear your mask throughout the interview as a means of making sure you're visually conveying how much you value protecting others in the workplace, according to Welcome to the Jungle. Of course, this may mean you will have to speak louder or more clearly so you're easily understood — and that's true on both sides of the conversation. In addition, a lot of the nuance of conversation comes in facial expressions, so you need to account for how wearing a mask impacts that as well.
2) Be overtly hygienic
Along similar lines to wearing a mask, it's also a good idea to have hand sanitizer and wipes close at hand throughout the interview process, Welcome to the Jungle advised. That means something in the lobby or at reception while they wait, products on the desk or conference room table and so on. It's a small thing, but it's good for reassuring interviewees and, of course, giving them that extra layer of protection.
3) Rearrange the meeting room
It's also advisable at this time to make sure you're not holding your interviews in a cramped office, and there's plenty of space for comfort around social distancing, according to Understood. That may require you to use a different room than you usually do, or to arrange chairs so everyone who sits in on the interview has the requisite six feet between them.
4) Be prepared to communicate around risk factors
Even now, after nearly a year since COVID lockdowns first really became an issue in the U.S., there seems to always be ways the virus can surprise us, and these can certainly disrupt a planned interview, Understood said. For instance, if you find out one of your employees has tested positive (or even had close contact with someone who did), be prepared to alert interviewees that plans may need to be altered or that the meeting has to be pushed back.
5) Give them the option to do it virtually
With the above in mind, and also given the skepticism many people rightly still have about in-person interactions, you should always give your interviewees the opportunity to conduct the meeting over video chat, according to The Cut. It's not ideal and certainly everyone is sick of Zoom at this point, but it's safer and will therefore be preferable for many applicants. It's also important to make sure you're not giving in-person candidates preferential treatment or consideration.