7 tips for hosting an off-site job interview
2/26/2020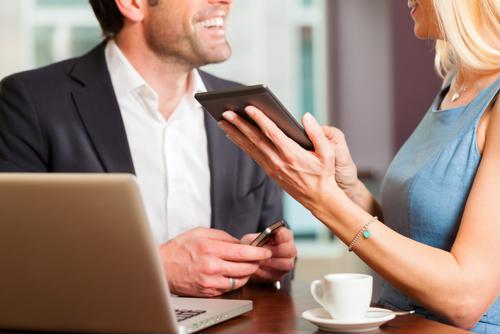 Sometimes, it's more feasible to hold job interviews away from an office setting. Whether you work for a company that is fully remote or have every meeting room booked up for the period in which you're hiring, an off-site interview can be a perfectly pleasant experience - as long as you focus on getting it right.
Following these tips should help you ensure you get the most out of every off-site interview:
1) Hold it in an easily accessible public space
The simplest way to hold an off-site job interview is to make sure the interviewee can get there easily, according to Toister Performance Solutions. That means picking a place that's a short walk from public transit or has ample parking. Coffee shops are always a great choice here, but so too are cafes, public libraries and so on. Anywhere that's relatively accessible will serve your purpose.
2) Arrive well in advance of the meeting time
Just as you would expect a job candidate to show up at least 10 or 15 minutes before an in-office interview, you should plan to do the same for your off-site meeting. However, because they might show up similarly early, you may want to be even more cautious and set up shop 30 minutes prior to the meeting.
3) Set professionalism as the goal
Even though you're meeting in a coffee shop or library, you still have to present yourself as well as possible, according to Entrepreneur. That means professional dress (perhaps not even business casual) - and make sure the candidate has the same expectation.
4) Make it clear you don't want to be disturbed
If you're meeting in certain public settings, servers or other professionals may come over to check on you from time to time, Entrepreneur noted. If you want to make it clear to them beforehand that you're having a meeting and would like to be free of distractions, that's something you need to communicate. Likewise, it's always a good idea to find a table in a quiet corner of the space.
5) Don't get distracted
Because you don't want any external distractions, you should also make sure you're not dividing your attention with other work matters, according to The Balance Careers. That means closing your laptop, putting your phone on silent, and just settling into the conversation at hand.
6) Avoid eating food when meeting with people
If you're in a restaurant or coffee shop, there may be a temptation to make it a lunch interview or enjoy a snack throughout, The Balance Careers said. That's not a good idea, simply because you don't want to get caught with a mouth full of food when you should be asking or answering a question. Instead, just stick with a beverage.
7) Treat it like any other interview
While you're in a more neutral setting, it's still not a good idea to let it become a more casual conversation, The Balance Careers further advised. After all, you're still trying to find the best person for the job, who might be with the company for years to come, so you need to treat this with the same gravity you would any other interview.