5 tips for your next virtual interview
11/12/2020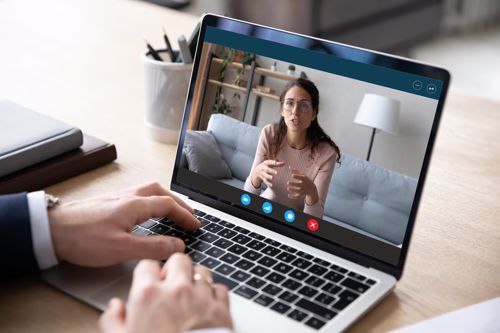 While some companies are at least starting to return to business as usual in some aspects of their operations, job interviews are, by and large, still something many prefer to do virtually. If you've been looking for work for a while, you are probably accustomed to the process to some extent, but it's never a bad idea to revisit the industry-recommended best practices for knocking such a meeting out of the park.
The following tips should help you put your best foot forward next time you interview via video chat:
1) Make sure all your tech works as expected
First and foremost, you want to make sure you have a microphone, camera and internet connection that's up to the task and can stay reliably connected for the entire conversation, according to Northeastern University. A test run with a friend or family member to get all your tech needs aligned is always a good idea. You also have to keep in mind that you should use headphones or earbuds for the interview, so you'll want to test those as well.
2) Think about your background
For a video interview, you want to keep the background basic, without a lot of stuff in the background, Northeastern advised. Ideally, you would take the call against a relatively empty wall, but that's not always feasible. As such, you should do your best with this issue and, certainly, make sure there's not too much movement or sunlight coming in from behind you.
3) Act like it's in-person
While a virtual interview may feel like it can be a little more casual, that's the wrong attitude to take, according to The Muse. Instead, it's a good idea to treat everything from your preparation to attire as a formal, in-person job interview, just to get yourself in the right head space and maximize your chances for really wowing the hiring manager and other professionals you may talk to.
4) Think about how 'eye contact' is different
In a sit-down interview at an office, you will be able to lean hard on the importance of eye contact to make a connection and a positive impression, The Muse added. That's not really the case with virtual meetings, because you look at the screen to see the other person speaking, but should be looking at the camera when you're speaking. A good trick, then, is to move the chat window directly below your webcam so you're always fairly close in terms of looking back and forth.
5) Be yourself
Finally, because this is a different kind of experience for everyone, you might be a little more tense than normal, especially with the added pressure of the pandemic and a tough job market, according to Salary.com. However, it's important to try as hard as you can to be yourself and put your best foot forward despite the trying circumstances, because you want to show interviewers exactly who they would be hiring.