4 aspects of video chat etiquette
11/2/2020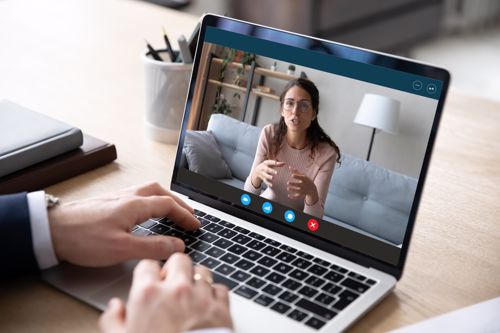 These days, many people have become quite accustomed to using video chats for everything from work meetings to virtually "hanging out" with their friends. However, these platforms are also important for people on both sides of a job interview, whether it's an interviewee trying to put their best foot forward, or a hiring manager showing as much respect for every candidate as possible.
The question, then, is how both sides can get the most out of such a virtual meeting, and following a few basic rules of video chat etiquette will go a long way toward helping them accomplish that goal:
1) Be aware of background noise
First and foremost, you will want to be sure that you are joining the chat from a relatively quiet part of your home, according to the University of Pittsburgh. While you certainly can't prepare for unexpected sounds from sirens, lawn mowers, road construction, barking dogs and more, there are usually some places where outdoor noise is relatively quiet. It's also a good idea to use headphones and a built-in microphone, rather than your computer's built-in speakers and mic.
2) Make sure your camera is in the right position
When you're setting up your "shot" ahead of an interview, there are a few things to keep in mind, Pitt advised. First and foremost, you want to make sure you are well-lit from the front so that there's no glare coming into the camera directly and that your entire face is easily visible. Beyond that, you should also strive to make sure the camera stays in a position to show your whole head and some of your shoulders, but not much more than that, and also that you aren't looking down at the camera.
3) Look into the camera, not at the screen
When you're having a conversation, it's only natural to want to look at their face, but one of the drawbacks of video chats is that you aren't making "eye contact" with them that way, according to PennLive. Instead, you will have to look directly at the camera on your computer. It can be disorienting to look straight at the camera while also trying to keep track of the other person's facial expressions, so the simplest fix to this problem is to move the chat window as close to the camera as possible. That way, even if you're a little bit off, it won't look like you're not paying attention.
4) Focus only on the conversation
Finally, as it relates to paying careful attention to the conversation throughout the call, it's a good idea to make that the only window you have open on your screen, according to Generation Digital. You don't want to find your eyes drawn to social media or get caught reading an unrelated personal email while the other person is talking. The only other window that might be advisable to have open is some notes on what you want to talk about during the call.