6 things to look for in a candidate's phone interview
6/19/2019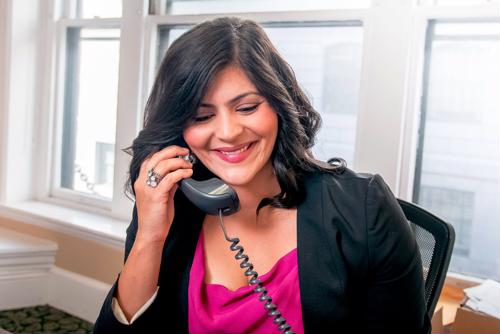 A phone interview is the first real "get to know you" talk a hiring manager will have with some of the more qualified applicants in their candidate search, so it's vital to get as much out of the talk as possible.
To that end, there are a number of qualities hiring managers should look for in a phone interview that will usually mean a candidate deserves a closer look with an in-person interview as well. Below are six of the best:
1) Clear enthusiasm for the job or company
It certainly goes without saying that candidates you talk to on the phone should be interested in the job for which they're interviewing, but there are levels to that interest, according to Glassdoor. The more enthusiasm they project on the phone, the better it will be to bring them in for an in-person meeting to really get a feel for their candidacy.
2) A potential culture fit
It's not always easy to determine how a candidate prefers to work in a phone interview, which makes it tougher to judge a culture fit, Glassdoor added. However, if you ask for examples of times they've worked well with colleagues or clashed with supervisors, you might be able to identify some ways you will either work well together or run into conflicts.
3) Preparedness
When you ask a question - particularly about how the person's qualifications mesh well with what the job entails, or about your company itself - you would hope not to hear some "uhhs" and "umms," or industry-jargon word salad, according to Indeed. Often, that's a sign the person isn't as well-prepared as they should be, or hasn't done the requisite research to understand what the company does or what you're looking for in a candidate. On the other hand, if they answer promptly and confidently, they've probably done the homework.
4) Great questions
As a hiring manager, you always like to hear good, insightful questions, but if the person on the other end of the line is peppering you with a number of good queries during the phone interview, it might be an indicator that they're an ideal candidate, Indeed noted. This may be particularly true if the questions come throughout the interview, rather than just at the end when you specifically ask for them.
5) They make it a conversation
One of the big pitfalls of a phone interview - and indeed, an in-person one - is the real chance one person dominates the conversation, according to The Interview Guys. That's not a perfect situation for either side, and if you find yourself talking a lot, or listening while the candidate talks at great length, that might be an indicator you're not dealing with a great candidate. But if there's back-and-forth throughout the call, you might be in business.
6) They're taking it slow
Finally, when someone seems to be talking fast and isn't relaxed, that might not be a disqualifying factor, but those who approach their questions and responses slowly and deliberately may highlight some extra confidence, The Interview Guys cautioned. Not every confident candidate is right for the job, of course, but they certainly might be worth another, more in-depth look.