5 keys for resume design
6/18/2019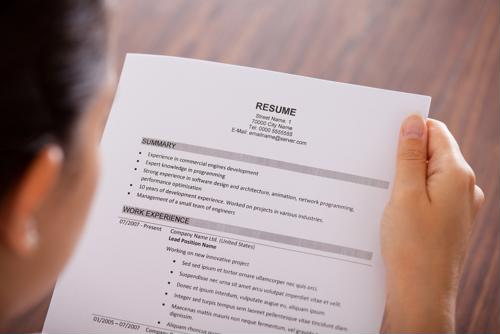 When you're submitting your resume to companies, you always want to have information on it that will make you stand out from the crowd. However, when dozens or even hundreds of people are sending in such documents, most of which are relatively similar in how they look, your effort to impress becomes that much more difficult.
And while experts certainly don't recommend making a garish or brightly colored resume, you can still design the document to make it a little more appealing and, potentially, eye-catching. Here are five tips to help do so:
1) Use a little color
In a sea of black and white, even a small splash of color can really grab a hiring manager's attention, according to Creative Bloq. Whether you add a touch of red to an underline on your name at the top or some blue in the margins, you can actually do quite a lot with even a little bit of extra color, but you have to be careful not to go overboard.
2) Don't go off-script with the fonts
As with color, there's a very fine line between what's an eye-catching font and one that will come across as too playful or unprofessional, Creative Bloq added. Here, too, you might be wise to stick with a different font for your name or contact information at the top of the resume, but a relatively standard one - such as Helvetica or Times New Roman - for the body of the document.
3) Size it right
When choosing the font itself, you also have to be cognizant of the importance of sizing, according to Piktochart. If you go too small, you'll not only make the document harder to read, but also come across as trying to cram a lot of information on to a single page. Going too big, on the other hand, can be disorienting for readers and may appear as though you're trying to pad out a skimpy work history. In general, strive to keep your font size between 11 and 13 points.
4) Emphasize your contact info
Since the whole point of a resume is for the hiring manager to contact you, it's smart to make your contact information stand out above everything else, not just because it's at the top of the page, Piktochart added. As mentioned, adding some color can be a good idea, and this is also the only place on the resume where you can make the font a bit bigger, especially on your name. For some jobs, adding small graphics can help as well, but these should be industry-specific.
5) Use easy-to-read headings
A lot of resumes can get a little wordy and uniform, so it's important to break yours up as much as possible, according to 99 Designs. Having separate headings for your education, job experience and professional skills - with subheadings breaking down your multiple jobs and so on - is a great way to make sure even a quick look at a resume will provide the reader with some basic information that's easy to understand.