5 ways to make your resume stand out
2/12/2019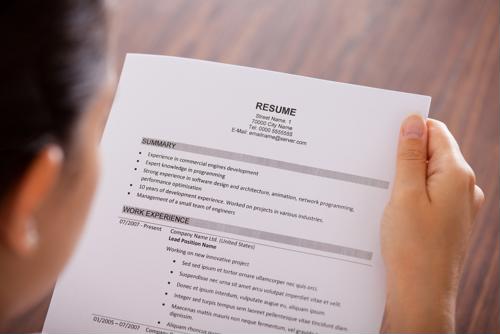 Even in today's ultra-tight employment environment, many job listings still receive dozens or more applicants because everyone is looking to move up in the world. With that in mind, any job seeker still has to do more to truly stand out from a crowd of other interested pursuers.
Here are five tips that could prove crucial in making the big step from applicant to interviewee.
1) Include specifics, specifically
One of the biggest mistakes many applicants make is jamming as much information as possible about their education and work histories onto a resume, according to TIME. Instead, it might be wiser to only include experience or education that is truly applicable to the job and expand a little bit on how that will serve you well in the role to which you are applying.
It might also be wise to provide any quantifiers you can, highlighting things like your sales numbers relative to the company, or how productivity improved under your leadership.
2) Customize it
Companies are often looking to have their plans or goals reaffirmed by the people they hire, TIME added. For that reason, it's important for any applicant to mirror the language of the job listing with specific keywords being used where applicable throughout the resume.
3) Don't be afraid of a second page - if you need it
There is a tendency among applicants to try to keep their resumes as brief as possible, but depending on the circumstances, that might not always be the best path forward, according to St. Louis television station KSDK. If, for instance, you're applying for a leadership position that calls for 10 years of experience, you may need an extra page to detail what makes you the ideal candidate; hiring managers usually won't be turned off by the inclusion.
4) Don't follow conventions
If you want your resume to differentiate itself from the field, you have to think about the things to avoid as much as the things to put in, according to business author Aliza Licht, writing for Forbes. For instance, many applicants like to list some attributes that make them ideal for the job, but most hiring managers will ignore these or actively hold them against the candidate.
However, this is also true of things like having a format copied and pasted from a website or repeatedly using buzzwords that don't necessarily mean a lot.
5) Striking visuals
Hiring managers often spend little more than a few seconds looking at every resume that comes across their desk, so having something intriguing to catch the eye can be a good idea, Licht noted. Whether that's putting your name in a unique font or even a customized graphic, having something colorful at the top of the page can get a decision maker to spend an extra several seconds looking at what you sent.
That might be the difference you need to give you an edge on the field and land that crucial interview.