Do your homework before an interview
9/26/2017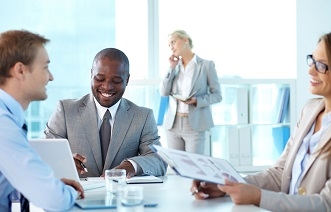 The last thing anyone wants is to arrive unprepared for an interview. The mere thought is almost like the stereotypical nightmare of arriving at school and finding out that you aren't wearing a single thing. Next time you get the call to come in and speak with a hiring manager or official representative, don't be caught without anything to provide: Demonstrate you can research the firm and understand what it wants from you or any new hire before you walk in that door.
Check and double check the website
It is essential that, at the very least, you head over to the company's website and take a look. Be sure to pay attention to any awards or commendations that have been received. This is particularly important if the interviewer asks you, the candidate, what you know about the company history. If the firm is a prestigious one, you'd better be certain that you know what its claim to fame is - and why.
Additionally, Forbes advised, you study the website's "About" section. This is where many firms include outstanding details like their mission and values. This can help you gain a sense of corporate culture, but it can be essential reading material if you are interviewing at a nonprofit where details of its mindset are revealed.
Finally, job seekers need to consider the company's blog and any social media accounts. If the blog is on the main website, it can provide some excellent insight into industry news and what's important to the company. You can become current with issues that are important to employees, and this may help better prepare you for some interview questions.
Corporate social media accounts can provide details on the company's culture, as well as any quirky celebrations or milestones, which may come up in an interview. On the other hand, the organization's posts on Facebook, Twitter and LinkedIn, for example, can help you discern whether the company's personality will be a good fit for you.
Don't forget the big players
You don't have to have all of the board memorized but it is rather useful to be able to recognize the company's CEO, according to Glassdoor. Keep an eye out for managers and department leaders as well, just to know who's who. You may be working with one of these individuals at some point or meeting with them during your interview. If you really want to take a look at who these people are, feel free to search their backgrounds on Google. You may discover a common experience, trait or aspect of your history, such as your alma mater, which can prompt conversation.
Polish up your skills
By delving into the company site, you will be able to gain a sense of what it values, the source added. Take a look at other open positions it may have featured, and any news surrounding the place at which you have the interview. Examining these roles and the language with which the positions are described can help you better understand what skills are important and what it is looking for in a new hire. This may mean you have to reconsider your own skill set and how you can best talk about your strengths in terms of the open role.
No matter what company you walk into, it is always best to be prepared for your meeting. Taking a bit of extra time to learn about the firm before going there may mean that you are successful in your candidacy.