Should you buy your employer a holiday gift?
11/30/2017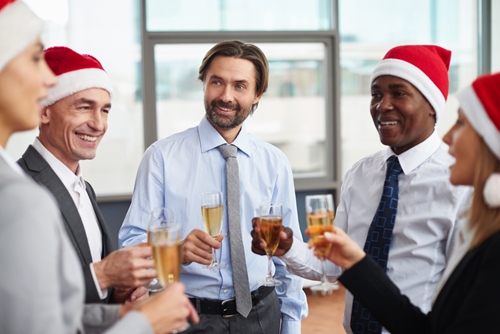 There may be a chill in the air, a few snowflakes falling and you've eaten all the turkey sandwiches you can handle. That can only mean one thing: The holidays are almost upon us. For some, this can mean the promise of extra time off, for others, extra time to work. Maybe you even managed to pick up a seasonal position to earn a bit of extra cash. Many temp agencies help out retailers at this time of year as extra hands are needed to help handle the influx of shoppers.
You and the rest of your team may also be anticipating your annual holiday party. Perhaps the office participates in a gift exchange or a Yankee swap in addition to the festivities, or you might all just meet for a holiday-themed Happy Hour. However you choose to celebrate, you're not necessarily obligated to purchase gifts for your coworkers. But what about your employer? How can you best determine whether or not it is appropriate to purchase them a gift?
Take your boss off the list
Whether you think they've been naughty or nice this year, it matters not, according to an article on Inc, because your boss shouldn't be on any list. In other words, don't buy your employers a gift. This person has authority and a certain place in the company, and the gift exchange is not a two-way street. So instead of saving your pennies for that fancy bottle of bourbon, treat yourself to a fun, pre-holiday lunch with some of your coworkers.
But why is it unnecessary to give your superior a present? The article cited advice from Miss Manners aka Judith Martin, queen of etiquette, who said the higher-up will give employees gifts in the form of bonuses or extra time off, but it is not workers' place to reciprocate. So, if you want to heed this advice, you can breathe a sigh of relief.
Do it group style
Workers at smaller companies may collaborate more with their employer than in larger firms. This means the relationship is a bit closer, and your boss is more a colleague than a far-off figure. The best thing to do here is collectively show the CEO some appreciation this holiday season. The Balance suggested that the team grab a group gift. If your plan was to give a solo present, don't do it. You'll only stand out, plus your coworkers may feel offended or as if you are brown nosing should you stray from the collective.
Of course, this advice can apply to any company of any size, but it may be likely that those at smaller firms feel the need more strongly to get something for their boss at the holidays. No matter what, however, the group should buy something that would make the recipient pleasantly surprised, not impressed. The item in question can, of course, be more extravagant than something you would purchase solo, but the source also noted that you should choose an impersonal present. A gift card to a famed restaurant, a really nice bottle of wine, a fancy box of truffles or a new tablet are all suitably distanced purchases that can be delivered by the group. Something too personal like jewelry, a massage at a luxurious spa or a briefcase would all seem a bit inappropriate.
It's okay to consider your managers
If you work in a hierarchical company structure, chances are there is someone above you to whom you report on a regular basis. Money noted that you can buy small gifts for these individuals if you so choose. Again, it's important to stick to impersonal purchases so you look like you are thanking them for their yearlong collaborative efforts, rather than asking them for something.
Basically, your employer will not expect a gift from you and, depending on their personality, it may seem a bit strange. If your coworkers want to chip in for this annual present, by all means go for it, otherwise cross your fingers for a holiday bonus and enjoy the buffet table at the party.