Find a personal buffer to help work-life balance
11/6/2017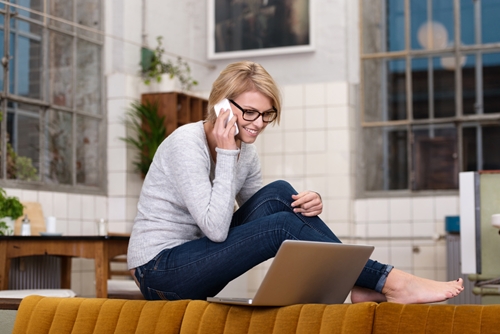 It's harder than ever to switch off and take time away from work. Many people find that thanks to technology, their employer demands more of their time after hours. Employees are expected to respond to emails when they've left for the day, finish off tasks post-work, and generally be on call most of the time. For some positions, this comes with the territory, but because we can check email at any time and access the internet, the expectation is that work doesn't end when we exit the office.
In addition, there is a greater number of people who work from home. Companies view this as a perk; if you can dial in to the office and take care of your responsibilities no matter where you are, you can have more time with your family, a chance to avoid a long commute, or the freedom to take the day to be productive at a favorite coffee shop, as long as it has a reliable internet connection, of course. By the same token, it is essential for your sanity and non-work life that you find a happy medium between your job and what you do the rest of the time with your friends and your family.
According to Entrepreneur, the key is to enjoy work/life harmony, where what you do to make money does not overwhelm what you do to relax. Most importantly, you need to find a balance, or something that serves as an outlet from both aspects of your life. This can be heading to the gym, running and being active, or taking up a pursuit that is uniquely yours. The source added that it is almost a buffer from your business and your personal life, and a chance to recharge before leaping back into the fray of work and family.
Think about the small things
The Huffington Post, noted that some people believe that vacation time can enable them to balance out their work and their life. With paid time off, an employer knows that workers are going to switch off and be away from their regular duties. People on vacation will have the opportunity to do something they truly desire and that makes them reconnect with their deepest selves. Yet that seems to be going from one extreme to the other. Instead, the source added, flexibility is key to managing the demands of work and the demands of family. This is something personal and it can mean different things for different people. Some need to rise earlier to have time alone in the morning, others need a gap between work and coming home. However, the smallest changes you can make involve setting boundaries, which goes back to Entrepreneur's suggestion to find a personal pursuit just for you. Whatever this may be, taking time for yourself allows you to recharge, and you can subsequently find it easier to switch off, or to find space when you need it around loved ones.
And if all else fails, taking five minutes per day to meditate, to sit and to breathe and be with yourself may help you to refocus on both aspects of your life.
Creating space is key to keeping work and your life in check. It's important to love what you do and to feel equally passionate about your time off the clock. To be productive and present in both worlds, sometimes you have to put yourself first, reassess your strengths and what it is that you like to do, and then place that in the middle. You may find that both aspects of your life are entirely enhanced.