How to have an easier commute to work
10/25/2017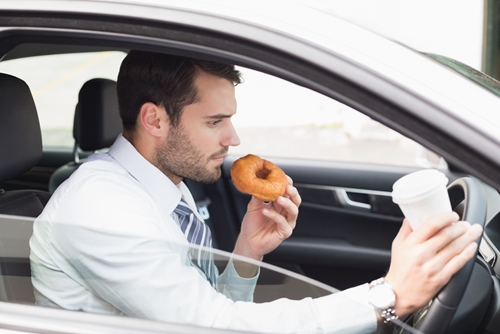 Commuting: It can be treasured time in the car where you have the chance to learn a new language, or daily insight into what being a sardine is really like. Those who are fortunate may travel to their place of employment quickly and comfortably, but some may have to take several modes of transportation to get from home to work. Whatever conveyance you take this travel time can be used wisely. After all, this extra hour - or minutes - can be a gift.
Cut down on the stress
Your employer will thank you if you arrive at work relaxed and ready to start your day. Instead of giving in to the frustration of a packed subway train or bus, take the time to remove yourself from the situation and breathe. Pop in your headphones, and listen to a guided meditation or a soothing podcast series on mindfulness.
Listening to an audio book is another way to detach from a cramped and difficult ride to work. If you know that you won't have a seat or room to read, you can still engage with your favorite author to pass the time. As a bonus, you also won't have to make small talk with other commuters.
Look into flexible options
According to data collected by Robert Half, commuters in most U.S. cities spend up to an hour en route. Those who work in Washington D.C. are in transit for 60.42 minutes a day, while New Yorkers can expect their travel time to be 57.92 minutes. If you're finding that you are stuck just getting to the office, it might be a good idea to speak with your employer about different options. Some companies understand the frustrations involved with taking buses, trains and subways to work, and will offer their employees staggered options. For example, it could be possible that you can start and end a little later to avoid the rush. Or, your boss might let you work from home a couple of days each week. As long as you can be more productive, you may be able to come up with a better situation that works for everyone.
Robert Half district president Josh Howarth explained that employers should talk to their workers to understand how the commute may be affecting their work, and if there is a solution to end travel woes. "Good managers keep a constant gauge on team morale," he said. "[Managers] should continually talk to employees about their commutes to identify pain points and possible workarounds."
Research transportation alternatives
Hate driving? See if you can carpool with a coworker. Need exercise? Greatist noted that long commutes often cut into workout time. If this is the case for you, look into biking or walking options when and where possible. For example, waiting for that second bus to get into the office may regularly take longer than simply walking the last leg of the journey. Time the distance on foot to see if you can get there more efficiently yourself. If your city has ample bike lanes, it might be time to invest in a bicycle. Be sure to buy a helmet, and also look into keeping a change of clothes at work so you feel fresh and clean. If you can convince enough coworkers to consider using pedal power to arrive at the office, it might be possible to talk your employer into installing a shower or upgrading the bathroom to accommodate the group's needs.
Turn the car into a classroom
Those who have no choice but to drive to work, Greatist noted, can use the time to their advantage. With the plethora of podcasts available, it is entirely possible to learn a new language or listen to a university lecture while en route. Decide what you want to discover, and then do a bit of research at home to see your options. If the listening material is work-related, you may be able to convince your boss to invest in any associated costs.
Few people actually enjoy the process of getting to work, but you can imbue your own commute with some positive energy. While it may be tempting to be productive all the way to the office, use the time to your advantage, looking for ways to enhance your skills, improve your well-being and hopefully get some exercise. You'll become a better employee and feel more like yourself in the process.