How to overcome work boredom
10/24/2017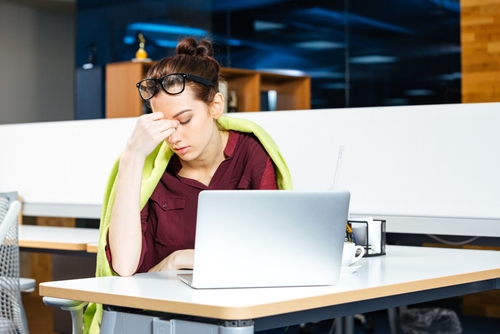 Call it what you will: unchallenged, stuck in a rut, disillusioned, or just plain bored. On some occasion or another, people feel dissatisfied with their jobs, their employers or even their career choices. It can be hard to feel motivated to get tasks done, and when productivity goes down, some people may experience stress.
It's important to remember that you are not the only person feeling this way. According to a new survey from Robert Half, employees reported that they spend 10.5 hours per week wallowing in boredom. Employers and managers, on the other hand, are operating under a bit of an illusion: they indicated they thought their staff were bored for only five hours each week. Additionally, two out of every five respondents said that they would quit their jobs if they were under-stimulated.
And you can't blame the frustration on the seasons. Almost half of those surveyed said they were equally bored throughout the year, with 28 percent expressing that they were mostly going nuts in the winter.
A district president for OfficeTeam, Brandi Britton, explained that the blame should not be placed on managers or employees only. "Managers can regularly check in with staff to ensure they're engaged, but the onus is also on employees," she said. "When boredom strikes or there's a lull in activity, individuals should proactively ask to help with projects that challenge and interest them."
Stay engaged on the job
A recent Fast Company article presented tips for individuals feeling stuck on the job. This mindset is something in which workers should not wallow. Feeling tired and dwelling on that fact will only increase the sensation, which is why one of the experts quoted in the article suggested that you try and remain inquisitive about your work. There will always be something to seek out or learn, and in order to keep your mind fresh you can read up on your field, watch informational videos or listen to podcasts connected to your industry. You may even be able to approach your employer with a new idea or way of operating that you discover as part of your research.
It is okay to move around, especially when you feel frustrated and bored. Another individual highlighted her experience for Fast Company, and expressed that she changes scenery to gain a new perspective. For example, she may pick up her laptop and move to another location to work to feel like she is starting fresh. If this is possible, work in a conference room for a while, or take an early lunch - and a notebook - to brainstorm. Sometimes getting out in the fresh air can help reignite brain cells, so skip the sad desk lunch at least a couple of days each week and try to hike or explore a new neighborhood.
It's absolutely normal to feel bored from time to time, but if you are chronically frustrated with your work, it is time to talk to your employer. Ready to change industries? A recruiter or career professional can help you assess your strengths and weaknesses to see what new field might be ideal for you and your interests. Change can be a good thing, and you may find that you are highly suited for something different, so don't be afraid to reach out for the help you need.