Is working from home right for you?
10/13/2017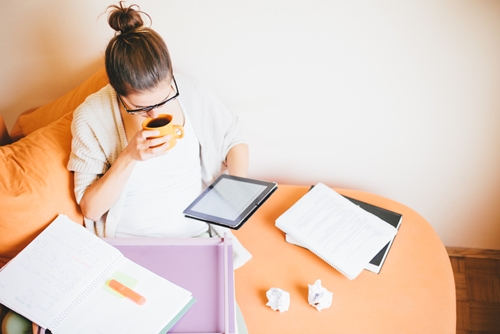 People are connected in unprecedented ways thanks to technology and all the assorted portable devices - laptops, smartphones, tablets and more. You can search for jobs and connect with potential employers online, for example, and if you need to speak with a recruiter in another city, it is entirely possible to set up a conference call from the comfort of your home. (Just be sure to dress up as if you were attending an in-person interview: You can still see another person's clothes via webcam.)
Because we can now get connected to the internet and other people just about anywhere, more individuals are able to take on jobs that allow them to work from home. Before seeking abode-based employment, be honest with yourself and with your work habits and consider whether this kind of position is right for you.
Separate work from living
Many people don't have the option for a dedicated home office. If you want to work from home - or you decide to apply for a job with this flexibility - you will have to set up and area in which you can work. Sitting in the living room may be too tempting - hello, Netflix - and working in the kitchen may lead to unnecessary snacking or elaborate meal preparations. If you live in a small space, consider rearranging furniture, for example, moving a large bookshelf to divide your living room space can create an office-like environment. You can also look into purchasing a screen to shield your workspace from where you socialize and relax.
Those who choose to work from home have additional considerations as some boundaries are less tangible. A New York Times article suggested that you still try and be as professional as possible, even if you are only communicating with company executives via phone. This means getting dressed in the morning - and no, not just in sweatpants. Putting on work-appropriate clothing can help you feel more productive and professional, which will enhance your ability to get things done. Besides, the source added, you never know when your team may ask you to hop on a video call to discuss something.
Remember to call it a day
Without an immediate supervisor to tell you when it's time to leave and coworkers to entice you out to happy hour, it can be hard to stop working. This is where some remote workers may find technology to be a hindrance. If you take your lunch break at the gym, it can be tempting to continue checking email on your phone, or adding the finishing touches to a report. You may even find yourself taking notes while on the treadmill so you can add to your project once back at your desk. However, knowing when to work and when to "switch off" is essential if you want to make your home-based job a success.
According to a report titled "Assessing the growth of remote working and its consequences for effort, well-being and work-life balance" published in New Technology, Work and Employment, remote employees noted a greater sense of personal satisfaction, but struggled to keep work separate from life. Simply put, you can be an overachiever at your job, but you also need to remember that this doesn't mean you have to keep working while lying in bed at night.
New skills will boost your resume
In addition to your current duties, as a telecommuting worker you will certainly learn more computer programs in addition to honing your management skills. Wendy Helfenbaum contributed an article to Forbes where she expressed that remote employees will download and utilize tools which may be new to them. Skype can be your friend, but you may find project management software and remote messaging systems to be helpful for keeping in contact with the office. For example, some people learn how to use programs like Slack, Asana or Trello, where tasks are organized and added to a shared calendar, or are set up so each team member can see what they need to do. While your company may already have a similar system in place, you might find that you use it more while away from the office.
Additionally, you will obtain valuable experience in time management, meeting deadlines, being independently driven and communications while working remotely.
Working at home is not for everyone, which is why it can be helpful to discuss your employment options with your local recruiter before you take the leap. On the other hand, the ability to do your job remotely for a day or two each week may be something an employer offers as part of its benefits package, and this can ease you into the concept. Always be honest with yourself and your team, and you may discover an advantageous work solution for everyone involved.